Tyler Buckley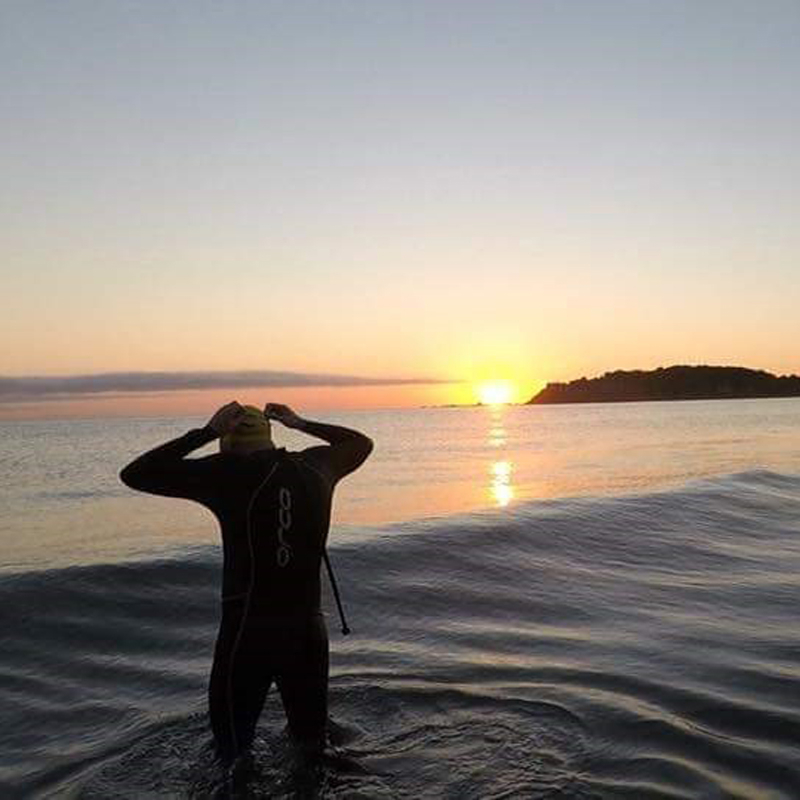 Every Saturday morning at sunrise, Tyler Buckley puts on his wetsuit and dives into the ocean.
The Senior Solicitor has swum 7km around Mauao, Moturiki (Leisure) and Moturoa (Rabbit) islands before most of us have climbed out of bed – but ocean swimming is a sport that's driven him for years to push beyond physical limits and find a sense of calm.
"If you keep swimming for a long stretch, you can fall into a meditative state of mind. It's two hours of just stroking and breathing with very few distractions. It's a great experience."
Tyler began swimming competitively in a pool when he was at primary school, and is also a talented water polo player.
His first taste of ocean swimming came at age 18 and he was immediately hooked.
---
"OCEAN SWIMMING IS VERY LIBERATING COMPARED TO SWIMMING IN A POOL. YOU'RE NOT RESTRICTED BY LANES AND IT'S ALWAYS A LITTLE BIT RISKY. YOU NEVER KNOW WHAT YOU'RE GOING TO BUMP INTO AND EVERY OCEAN SWIM IS DIFFERENT."
---
Stingrays and seals regularly accompany Tyler on his swims around Mauao, and he has seen a shark on one occasion. "You get into a rhythm because you don't have to tumble-turn after 25 metres or anything. So you can swim for long stretches and when you do see something unexpected, it does give you a bit of a fright," he admits.
His most unsettling experience came when he was living in England. "I competed in an event in the countryside near Bristol in an old man-made lake. It had really big catfish the size of my arm. It was terrible, really cold, and I didn't know the catfish were there until I was already in the water with them." To make matters worse, he was pipped for first place right at the final stretch.
Tyler moved back to New Zealand in 2017 and chose to settle in Mount Maunganui initally and currently resides in Papamoa because of its proximity to the ocean. "It's just beautiful here. After a few weeks of calm weather the water visibility is amazing and you can see loads of schools of fish as you're swimming around Mauao. I love it."
He and a group of ocean swimming friends stay in touch via a Facebook group called the Seamen Ocean Swim Squad and arrange to meet every weekend. "In the middle of summer there might be 20+ swimmers. We swim all through the year, and the numbers do drop to a hardy few in the middle of winter. We wear thick wetsuits but I feel the cold in my face and forehead. It's like a really bad ice-cream headache for a few minutes."
He likes to compete in the odd event – particularly the annual races between Cathedral Cove and Hahei, and between the islands offshore from Whangamata. And while he says the Mount is hard to beat location-wise, Tyler is keen to tackle some longer swims in future.
"Swimming the Cook Strait is a goal of mine, that's around 26km. But the biggest open swim in New Zealand is 40km across Lake Taupo. That would take about 12 hours so it's a pretty massive feat."
Anyone who is keen to try ocean swimming is welcome to speak with Tyler for advice. He recommends wearing a bright swimming cap to help avoid collisions (particularly with jet skiers) and says having confidence is key.
"If you're a keen swimmer, just give it a go. Check the tides first so you're swimming with the current and don't be scared of the shadows underneath you – they're much more likely to be rocks than sharks!"
Position Senior Solicitor