Jenny Meehan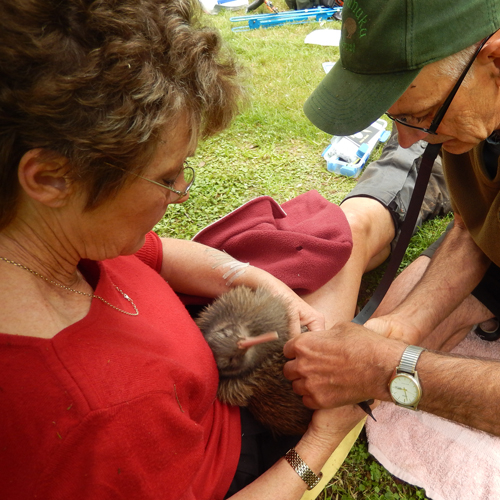 At Cooney Lees Morgan we're all proud Kiwis but Senior Legal Assistant Jenny Meehan can be a little prouder than most, as she helps to ensure the survival of our iconic national bird.
In early October, Jenny and two fellow volunteers from the Otanewainuku Kiwi Trust spent a long night camping in the bush in order to uplift a precious North Island brown kiwi egg.
"From time to time, iwi invite us to uplift eggs from an area of the Whirinaki Forest that's not protected by pest control. If we didn't take these eggs, there's a high chance the chicks wouldn't survive," Jenny explains.
Each egg is carefully transported to Rotorua's Kiwi Encounter facility where they're raised for six months until the bird is strong enough to defend itself from predators like stoats and rats.
On her recent trip, Jenny spent many cold hours huddled in the bush waiting for expectant dad 'Moby' to leave his burrow so the egg he was incubating could be retrieved.
"He has a small transmitter attached to him so we can pin-point his exact location. It beeps regularly and you can tell when a bird gets up and moves because the frequency changes. Unfortunately Moby didn't move until 10:15pm so it was a very long cold night!"
Jenny says the egg was "absolutely amazing and beautiful", making it well worth the wait. It was popped into a sock and into a tiny chilly bin filled with foam padding to keep warm and safe on its journey to Rotorua.
"It turns out the egg internally pipped overnight which means its beak popped through into the internal air sac. The ladies at Kiwi Encounter dated it at 73 days old and kiwi eggs normally hatch at 75-80 days so we got there just in time."
Once the new chick has grown large enough, it will be returned back to Whirinaki. "It's a good will gesture on behalf of Otanewainuku Kiwi Trust," Jenny says. "About half the eggs we take go back to Whirinaki, while the other half come over to Otanewainuku so we can increase our genetic pool and kiwi numbers as well."
The Otanewainuku Forest (inland from Te Puke) is currently home to 22 kiwi and Jenny helps monitor their movements. She also co-ordinates 35 volunteer stoat trappers who help maintain and re-bait stoat traps spread over 1000ha.
"I love the bush and I've been tramping for many years so this is my chance to give something back," she says. "When you get to touch and handle a little kiwi you develop a real bond with them. Each one is given a name so it becomes personal. They're just amazing birds and I'm so passionate about it."
Jenny Meehan sadly passed away in February 2021
Position Senior Legal Assistant