Forty Million Dollar Orchard Deal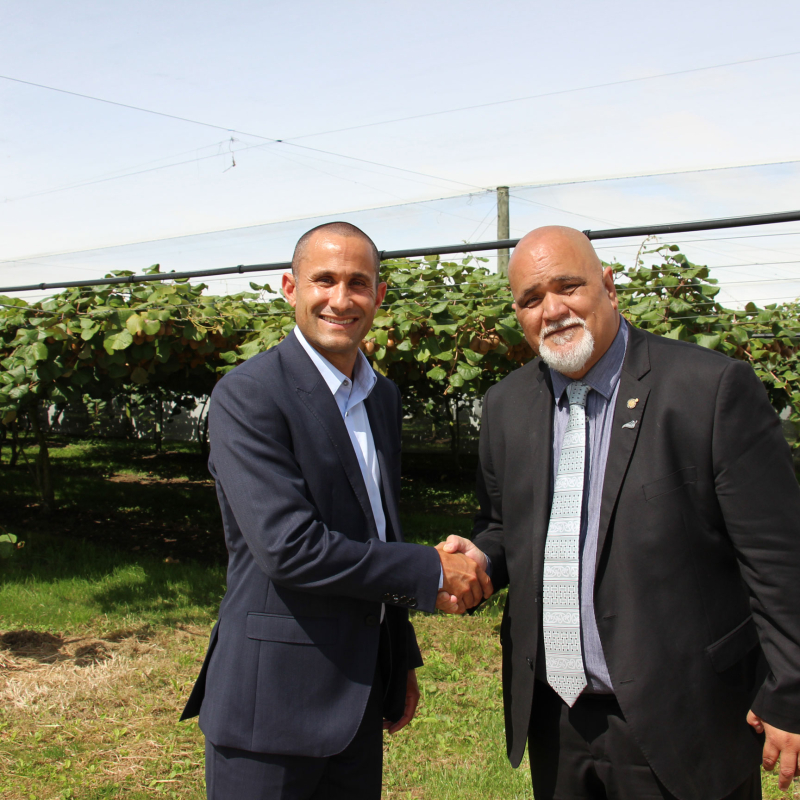 Having a long-standing relationship with Ngai Tukairangi, Cooney Lees Morgan were delighted to be entrusted with the responsibility of acting for them on their recent acquisition of a 60 canopy-hectare Kiwifruit orchard, one of New Zealand's largest.
Ngai Tukairangi trustee, Neil Te Kani, says this landmark acquisition marks an important milestone for the trust:
"We have always been leaders in the kiwifruit industry, and we've maintained our long-term commitment to the sector despite challenges the industry has faced."
"It's a strategic decision, we signalled it at last year's AGM we said we need to get bigger in terms of our footprint in the industry. We see that footprint having an impact on returns back to growers so it's an exciting industry and we wanted to continue the legacy of our grandparents who started with this."
"Most importantly this new 60 canopy hectare orchard helps grow our capacity to sustainably provide tangible benefits to our current and future owners."
This high value, complicated and time-bound transaction included some complex property, financing and kiwifruit orchard-specific legal issues that required specialist advice, which Cooney Lees Morgan had the resources to complete effectively and efficiently.
The team who worked on this transaction was led by Murray Denyer and Julie Warburton, with specialist legal support from Dean Willacy, Carolyn Culliney, and Kelly Hymers, and general support from Kelly Sanders, and Marouna Tane.
From start to finish, the transaction was also completed in a very short time frame which was aided by Cooney Lees Morgan's close working relationship with the ANZ, ensuring a smooth and timely completion of the financing side of the transaction.
Cooney Lees Morgan Partner, Murray Denyer says "It is wonderful to see our local iwi capitalising on the success of their existing kiwifruit orchard and other commercial investments, and spreading their wings outside the region. Ngai Tukairangi have a strong track record of success in kiwifruit orchard development, and this purchase cements their position among the very largest kiwifruit orchard operators in the country. It has been a privilege to work on this deal, and Cooney Lees Morgan wishes Ngai Tukairangi every success with this new endeavour."
Reputed to be one of the largest sales, by value, of any New Zealand rural property, PGG Wrightson Real Estate general manager, Peter Newbold had this to say: "Many observers will also be gratified knowing this transaction took place between two New Zealand-based entities...even for sales of this magnitude, locals have the capacity to purchase New Zealand rural property, despite competition from overseas interests."
It's a testament to the calibre of the firm that Cooney Lees Morgan were chosen to represent this Matapihi-based, local iwi on such an important acquisition.
Pictured above are David Harrison of ANZ and Ratahi Cross, chairman of the Ngai Tukairangi Trust. (image courtesy of ANZ.)
Parts of this news story were re-purposed from an original article, published here in full: http://www.sunlive.co.nz/news/148363-ngai-tukairangi-seal-40m-deal.