New Graduates Get Head Start On Legal Career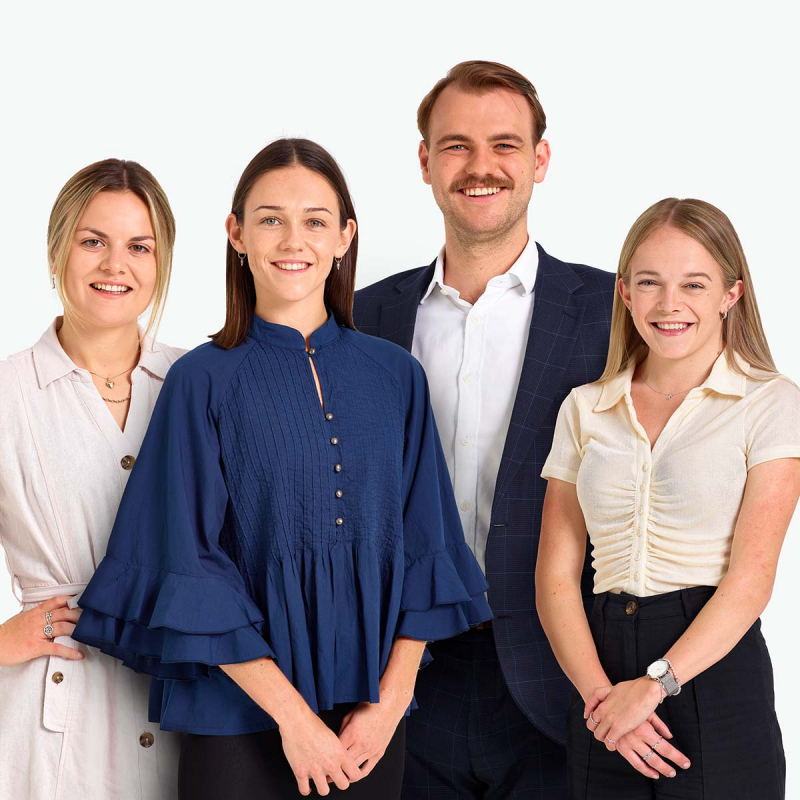 Transitioning from university to fulltime work can be daunting – but Cooney Lees Morgan's summer clerk programme is the ideal first step for law students.
Each summer the firm takes on a handful of senior law students and pairs them with a mentor, providing valuable exposure to the legal environment and practical skills while also uncovering new talent.
The programme is so successful that three of last year's summer clerks have now secured fulltime positions at Cooneys across a range of practice groups.
Law Clerk Jasnoor Kaur, age 23, grew up in Tauranga and was offered a summer clerk position when she popped into Cooney's office in late 2020 to drop off her CV.
"They were really warm and welcoming. Obviously Cooneys is a great firm with a good reputation so I was excited to be able to get an opportunity that's local."
The former Otumoetai College student had an interest in property so was paired up with a suitable mentor in the Private Client & Trust team. "This was my first time working at a law firm so it was quite different to studying. But learning the practical side of the job was fantastic – emailing clients, attending client meetings, drafting letters – you don't actually learn about that when you're doing a law degree."
With one semester left to go at Waikato University, Jasnoor asked if there were any part-time opportunities available and was thrilled to be offered three days' work a week (which has since turned into a fulltime role).
"I've felt really supported and they have been extremely flexible and accommodating. Being able to work in a law firm alongside finishing the last six months of my degree helped so much because I got to think of the practical aspects while studying the theory. It definitely made it easier."
Hannah Speight also grew up in Tauranga and has clerked for the past two summers while on study leave from Victoria University. "I thought it sounded like a great opportunity to get some real world experience and see what a career in law would look like."
The 22 year-old says her legal writing and research skills improved significantly during her time at Cooneys which was an advantage when she returned to university.
"I really enjoyed going along to things like hearings, mediations and client meetings because they were exciting and gave me some insight into different aspects of legal work. I also enjoyed doing research and writing memos because those skills connected directly with university and I could see improvement in my work over time."
Hannah is very grateful for the programme overall as the opportunities which came out of it were fantastic and the work was really valuable.
"I would never have chosen the litigation team for myself and was quite surprised when I was placed in it. But they knew what they were doing because it's definitely what I want to do with my career!"
Otago University graduate Peter McDonald hails from Auckland and Zimbabwe and is looking forward to joining Cooneys fulltime in early 2022. He was initially drawn to the summer clerk programme because of the breadth of work on offer.
"Unlike other summer clerk programmes, the CLM programme had me stay with my team [Property & Development] for the duration of summer. I found this allowed me to get a more than merely superficial understanding of the content and be involved in the evolution of a matter from the start until its end."
The 23 year-old agrees the experience gave context to what he was learning at university so he could better understand how it would be applied in the real world. However, the highlight of his time at Cooneys was the people.
"It is a very daunting prospect moving to a new city and not knowing anybody but the people at the firm were very welcoming. Additionally, the friendly atmosphere allowed me to really make the most of my interactions with the people who are where I want to be in the future – the people practicing law.
"There was a lot of information and experience I gained from listening and asking questions of the people I worked with which I found invaluable. Additionally, throughout the process I had designated 'buddies' who were available to help me on my work and the entire team welcomed my questions."
2021/22 Summer Law Clerk's photo left to right: Katelin Cotter, Nikki Anderson, Nick Tinholt, Claudia Riddle.