Unveiling Our New Gift To Tauranga City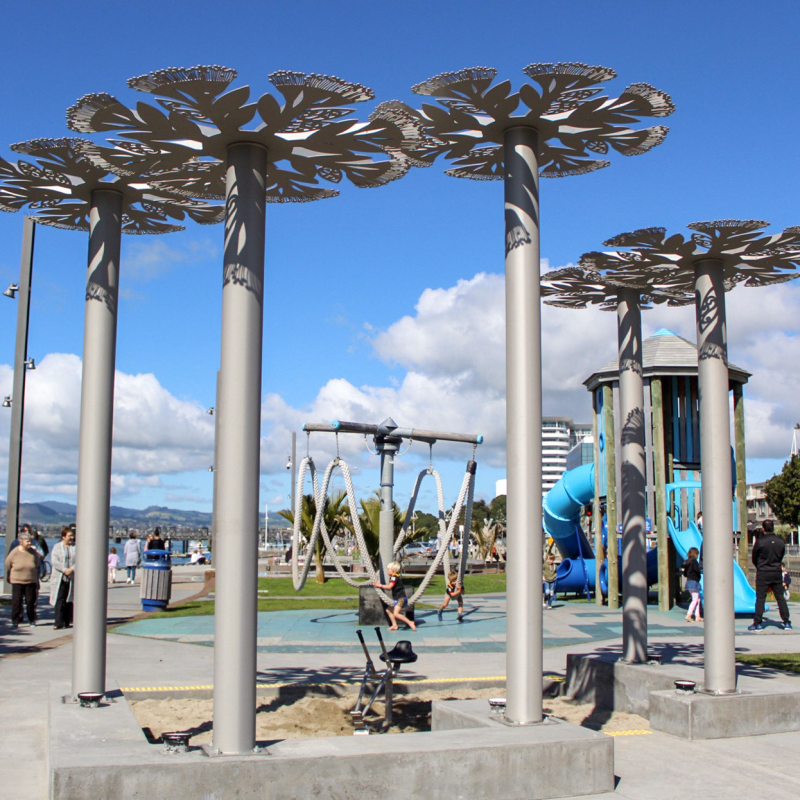 Five new towering pohutukawa trees now provide much-needed shade beside Tauranga's popular waterfront playground thanks to Cooney Lees Morgan.
Our firm is delighted to have sponsored the stainless steel creations to provide shade over Tauranga City Council's new sandpit which officially opened on Saturday 1st September.
The new sandpit sits beside the delightful Hairy Maclary bronze statues and is sure to be a big hit with local families this summer and for many years to come. It replaces the temporary sandpit which council has now upgraded so people can relax in the shade and watch their little ones play.
Talented Papamoa-based artist, Kereama Taepa, designed the new shade installation which is made from marine-grade stainless steel. Each tree is 2m in diameter and the intricate pattern on each 'tree' casts beautiful shadows on the ground below.
This initiative was organised through Project Tauranga and we're very proud to partner with them to bring these pohutukawa trees to life. It's a great way of giving back to our city and helping celebrate Cooney Lees Morgan's 100th anniversary this year.
"It is fantastic to have a great company like Cooney Lees Morgan supporting our community spaces, and the new shade installation will be unique for Tauranga," says City Transformation Chair Larry Baldock.
Shade was certainly needed on opening day, with clear blue skies and a big crowd of people gathering on The Strand to enjoy our celebratory sausage sizzle. We raised a good amount of money for Homes of Hope in the process, which will be used to purchase new bikes for foster care children in Tauranga.
Our staff certainly enjoyed watching plenty of kids dive straight into the sandpit and have heaps of fun on opening day. Seeing everyone come together to enjoy food, music and a great atmosphere reminds us all of why we love being part of Tauranga's community.
The new structure was officially blessed by Tamati Tata of Ngati Ranginui and Michael Cooney spoke on behalf of our firm before Sally Powdrell cut the ribbon. Tauranga Mayor Greg Brownless also spoke, congratulating us on our centenary and acknowledging Cooney Lees Morgan's past contribution to the city.
"We now have a lasting representation and legacy of Cooney Lees Morgan's role in our community. On behalf of the city and the Tauranga City Council, thank you for this beautiful artistic contribution to the city.
"I think it is brilliant to have taken up this opportunity to convert what would just be a functional shade structure into something meaningful to our city. You have beautified this place as well as made it more comfortable for families spending time here."