Aleyce
Molloy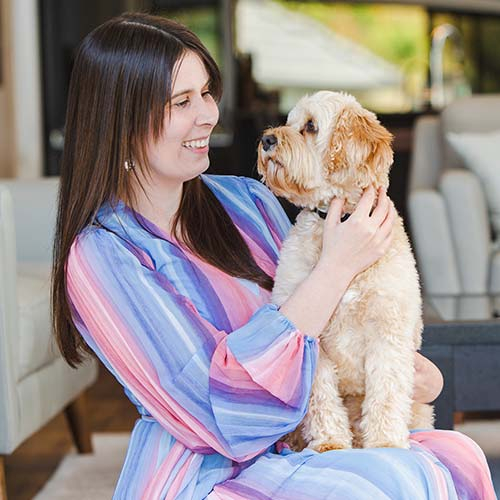 People will often do anything for their pets but Aleyce Molloy and her husband, Sam, are known to go above and beyond.
Whether it's dropping everything to drive to Auckland on Christmas Eve to collect a labradoodle that is being given away, or building a six-foot-high fence around their property to contain a husky with behavioural issues – the couple enjoy helping in any way they can to ensure vulnerable animals are provided for.
Aleyce and Sam have fostered and rehomed a small number of dogs in recent years while also keeping an eye out on Facebook for pleas from pet owners who can't afford petfood, flea or worm treatments.
"We just call around and drop off a few supplies to help out in the interim, or assist with transportation of pets between towns etc. That's been a more achievable way to help lately," Aleyce explains.
The 34 year-old certainly doesn't consider herself to be a 'dog rescuer' but admits she has a soft spot for animals in need.
---
"I'VE ALWAYS BEEN AN ANIMAL PERSON FROM A YOUNG AGE AND I GREW UP IN HAWKE'S BAY WITH CATS, DOGS, SHEEP, BIRDS AND A GOAT. MY FAMILY ALWAYS ENCOURAGED LOVE AND RESPECT FOR THOSE PETS AND I WAS PROBABLY QUITE SHELTERED FROM WITNESSING ANIMAL CRUELTY AND NEGLECT. SO AS I ENTERED ADULTHOOD AND BECAME MORE EXPOSED TO THE OTHER SIDE OF THE COIN, I KNEW IT WAS SOMETHING I COULDN'T STAND BY AND ACCEPT AND I'D WANT TO BE INVOLVED IN MINIMISING THAT HARM - EVEN IF ONLY IN A SMALL WAY."
---
When Aleyce and Sam visited Thailand a few years ago, they volunteered for 'Soi Dog' – an organisation which rescues and rehabilitates injured street dogs. "We fundraised some money and worked with a local vet who provided us with medical supplies at cost. We took those supplies over with us. It was a bit nerve wracking going through customs, especially when my suitcase of supplies didn't come out with all the others and went missing for half an hour!"
Her first opportunity to help dogs more locally came on Christmas Eve a few years ago when she saw a TradeMe listing for a labradoodle in Auckland. The owner lived in an apartment with no outdoor space and kept the dog in a crate. "The owner was keen to let her go to the first person who put their hand up, which was concerning. We decided we should take her temporarily and help find a suitable home by properly vetting people. They are worth quite a bit of money and could have attracted the wrong kind of people with the wrong motives."
After an integration period, the labradoodle went to a loving family in Wellington, and Aleyce and Sam have since repeated their re-homing efforts. Aleyce fondly recalls her favourite foster, a dog named Chloe she and Sam temporarily homed after Chloe's owner was no longer able to care for her and reached out on Facebook. "Chloe was the most gorgeous wee dog that very nearly ended up as a 'foster fail' - we were incredibly tempted to keep her! But we were approached by a lovely family who were looking for a companion for their existing dog and we knew they would be her perfect fit".
"We don't actually see as many posts from individuals for help on Facebook and TradeMe as what we used to. They used to be quite common and I don't know whether people are just more reluctant to put things up anymore because of the negativity associated with that, or whether it's getting better. I think I'd probably be quite naive to think it is getting better.
"Lately we've tended to leave fostering to the amazing local recuse organisations and go for the option of trying to help out people that might be financially struggling with their own pets where we can. And that's really satisfying too."