Dedication & Hard Work Paves The Way For Success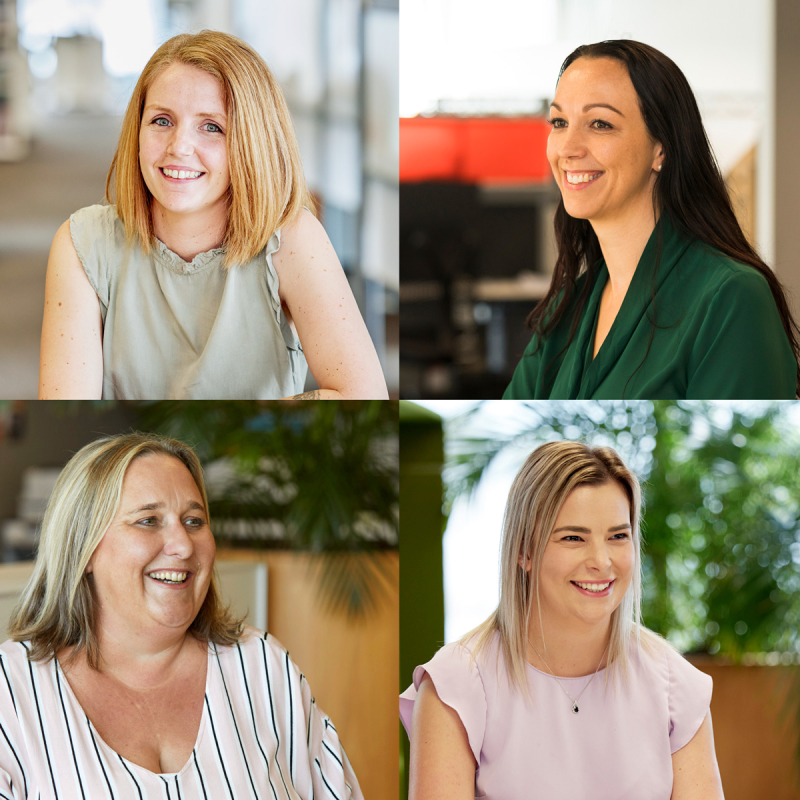 Career progression is one of life's most satisfying achievements and the Office Junior position at Cooney Lees Morgan has proved an ideal launch pad for several of our top performing staff.
Georgia Clemens and Melissa Cox have just been promoted to Senior Registered Legal Executives, while Marley Orr and Danielle Mooney are now Senior Legal Assistants. Three out of the four women started at the firm as Office Juniors.
Georgia previously worked in the hospitality industry before undertaking her Legal Executive Diploma at Bay of Plenty Polytechnic (now Toi Ohomai). She graduated in 2015 and spent just a few weeks as Cooney's Office Junior before being promoted to Legal Assistant, and then Legal Executive in 2017.
Nowadays most of her work is focused on housing and development for two large building companies. "I currently work under four solicitors so they keep me busy! I also help plan the annual Christmas Party which is super fun. There is always room to learn here. You can never know everything in this industry and I'm always learning new things. It doesn't allow you to be bored with your career."
Georgia's latest promotion is proof that all her hard work has paid off. "It's also some self-validation that what I do matters, and having the ability to be promoted even though I don't have a degree is proof that hard work and determination can get you places in life.
"Two other achievements I'm most proud of are returning from maternity leave twice and slotting back into the firm like I never left. I came back working for the same people and picking up the same work, so knowing that they appreciated me to want me back in the same position is really nice."
Melissa Cox initially applied for an office junior role towards the end of her sixth form year at college. She was encouraged to return to school and sit her exams, with the promise there would be a position waiting for her the following year.
"I did as I was told, and started my career at Cooney Lees Morgan in January 1993, just before my 17th birthday," she recalls. Since then she has worked her way up the career ladder, obtaining her Legal Executive Diploma and starting a family along the way.
"Cooneys has always supported upskilling, I have always been encouraged to go to training, webinars, and of course apply for this promotion. I went on maternity leave in 2004 and after that I returned on a job-share basis – CLM was very supportive of this arrangement and very understanding of young mums."
Melissa is proud to now lead a great team of people in her department, and often puts processes and systems in place that are used by other teams in the firm. "I enjoy being surrounded by supportive people and the culture here is team-driven, social and welcoming."
Marley Orr also grew up in the Bay of Plenty and was originally encouraged to undertake her Legal Executive Diploma by her aunt who is a Solicitor in Wellington.
"She and I discussed her role, and after discussions with her and my mum, they recommended I give it a go. I first started work at Cooneys as an Office Junior in May 2017. I was recommended for the position by a tutor at Toi Ohomai while I was studying towards my Diploma."
Marley loves how every day at Cooneys is different and she is constantly learning. Her next career goal is to become a Registered Legal Executive and she is currently undertaking her Conveyancing Diploma. "For the last two years since joining the Property & Development team, my main role has been focused on Generation Homes, assisting with the progress payments for their house and land packages. I also assist with the land settlements and private client conveyancing transactions."
She has an "obsession" with fishing and boats, so living and working in Tauranga is ideal. "It's not too far to travel to get to the ocean or lake. I enjoy spending time with family, friends and my partner, always with a wine in hand. I love being outdoors whether its fishing, taking the kids to the lake for a biscuit or camping."
Danielle Mooney already had three young sons when she decided to enroll at Toi Ohomai and embark on a new career path. She graduated in 2018 and initially worked at another local law firm before joining Cooney's Property and Development team as a legal secretary.
"I had known another team member at Cooneys and she told me how great it was to work here. I have been at Cooneys for just under one year now so this is the first career progression for me from junior to senior legal assistant. I am proud to have been awarded a promotion so early in my career at the firm and it means a lot to me, proving my hard work and dedication have paid off."
Danielle currently assists with conveyancing for the property development company, Wolfbrook, and helps with settlements and preparing all necessary documentation. She enjoys the consistent nature of the work, and has found Cooneys to be a warm and welcoming workplace.
"The people, including senior staff, are always happy to help or chat. It is my ambition to move up to being a Legal Executive as soon as possible and be able to put my qualification to use in a professionally-recognised capacity."