Lunch Break Battles make the local news!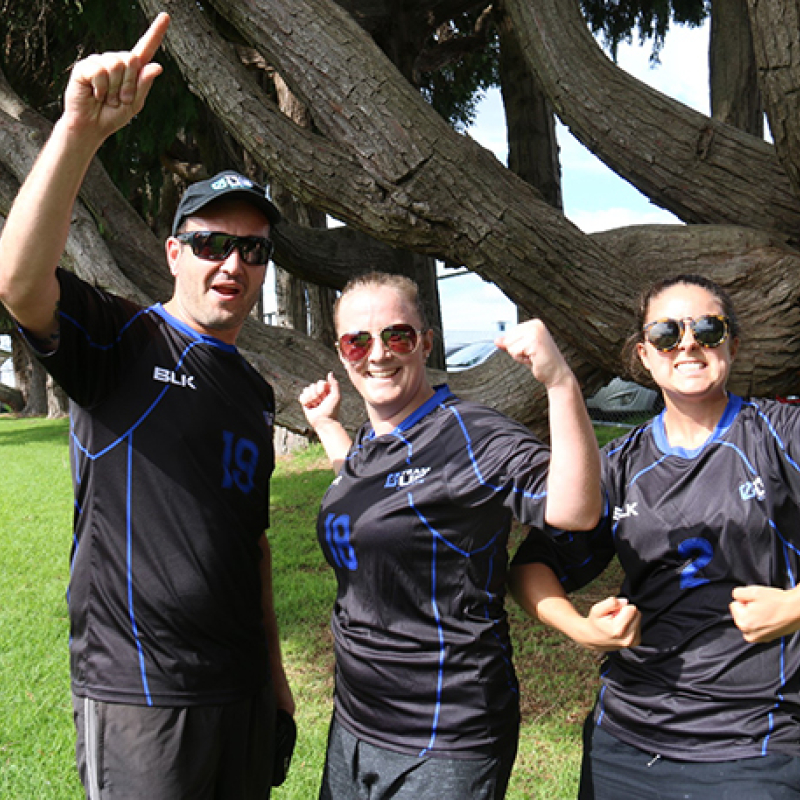 There were smiles on their faces and sweat on their brows as Monique Lowry, Stu Robertson and Julia Edward completed the Cooney Lees Morgan Lunchbreak Battle this afternoon.
The trio from Team Up Events was the first team to finish The Amazing Race – one of three corporate challenges in the lunchbreak battle at Wharepai Domain.
"It was a good lunchtime energiser," says Stu. "Good to break up the monotony of the work day."
About 40 teams of three made up of the city's businessmen and women took part in the fun, free workplace challenge.
Corporates go head-to-head in a series of hands-on activities that test their mental and physical agility – all in just 45 minutes.
The first lunchbreak challenge was The Amazing Race, where teams had to follow GPS coordinates on an app in search of letters which were hidden around Wharepai Domain and beyond.
Each team was instructed to provide photo evidence of their finds before having to unscramble the letters to reveal a word. The team that completes the challenge in the fastest time is the winner.
Sport Bay of Plenty communication advisor Laura Weaser says they are pleased with the large turnout of teams for the first event.
"It's awesome to see a large number of people getting away from their workplaces and in to the beautiful sunshine.
"They've all come back with smiles on their faces, which is great."
The next lunchbreak challenge is on May 4 – the Brain and Brawn Obstacle Course. The final challenge on May 18 is the Clash of the Corporates, where one team will be crowned the 2017 champion.
"All games will be held at Wharepai Domain, unless of course if it's raining and the events will be at the QE2," says Laura.
The Cooney Lees Morgan Lunchbreak Battle has been developed with Sport BOP's Play in The Bay initiative which aims to connect the community with low-cost, accessible ways to explore the region and get involved in sports and recreation.
All games begin at 12pm.
Copyright sunlive.co.nz, this article originally appeared here.