Murray Humbled By Export Honour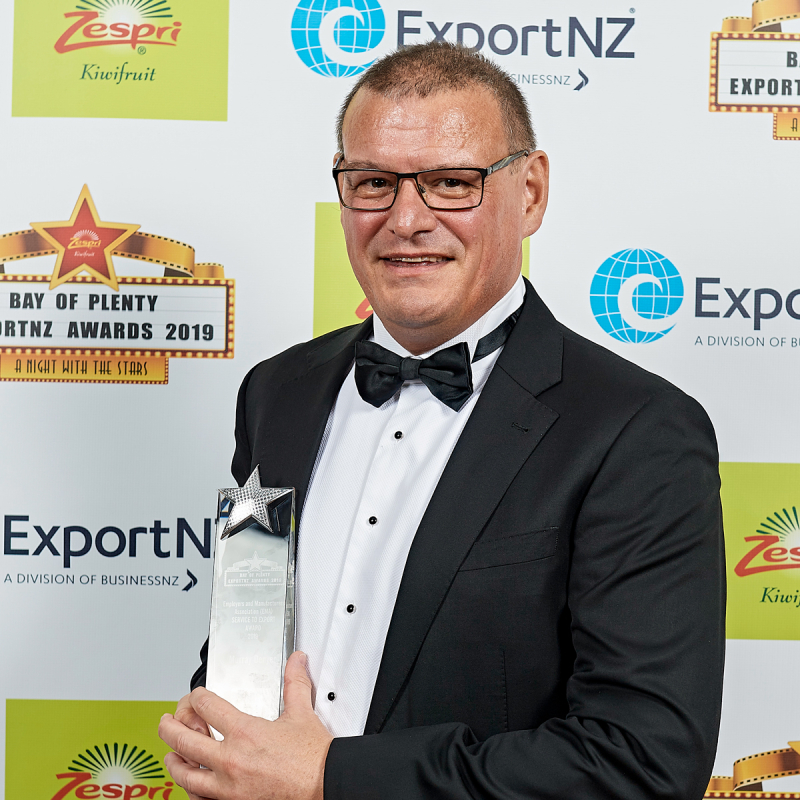 Growers, post-harvest operators and exporters are all key clients at Cooney Lees Morgan and we're delighted one of our own has been recognised for his significant contribution to New Zealand's export industry.
Partner Murray Denyer has received the 2019 Employers and Manufacturers Association (EMA) Service to Export Award at the Bay of Plenty ExportNZ Awards ceremony held on Friday 21st June.
"It's quite a special award," explains ExportNZ Bay of Plenty's Executive Officer Joanna Hall. "All the other awards have finalists and you can enter or nominate yourself. But the Service to Export Award is decided by a panel of people who are heavily involved in the local export and business community as well as past winners of the awards.
"Everyone unanimously felt Murray's contribution was very evident in his advocacy for start-ups and the kiwifruit industry in particular, which wouldn't be what it is today if it wasn't for his input. Murray's door is always open; he's very people centric and values-based in all of his business dealings."
Murray began his career as a legal adviser for New Zealand's Ministry of Foreign Affairs and Trade in Wellington before moving to the Netherlands and becoming 2IC to the Ambassador at The Hague in 1995. He initially showed his passion for New Zealand exports through enthusiastically promoting New Zealand wine and lamb, and worked almost exclusively on export-related matters when he returned home to MFAT in 1998.
He fought hard to remove trade barriers and preserve market access for New Zealand's dairy, apple and kiwifruit exports, and was part of a small legal team that successfully took several cases to the Disputes Tribunal of the World Trade Organisation in Geneva.
"I've worked a lot with the dairy board (as it then was), the wine industry and various others just getting trade access for New Zealand goods and services and fighting the good fight when other countries were trying to break the rules of international trade," he explains.
In 2004 he was headhunted for a new role as General Counsel and Board Secretary at Zespri, and moved to the Bay of Plenty. His expertise in the horticultural sector are renowned, and Murray has worked with companies exporting everything from avocados to berries, passionfruit and horned melons.
Murray joined
Tauranga lawyers
Cooney Lees Morgan just before the Psa crisis struck the kiwifruit industry in 2010. He subsequently helped to establish Kiwifruit Vine Health (KVH) – the industry organisation which is now in charge of pest and disease management.
"It was a really frightening time. Kiwifruit probably accounts for 20% - 25% of the Bay's economy so if that industry didn't recover in the way that it did, this would be a very different place today."
But Murray's involvement in the export industry doesn't end there. As a board member and former Chair of the Bay's economic development agency, Priority One, and the region's angel investment group, Enterprise Angels, he's had a hand in numerous start-ups and mentored many export businesses along the way.
He counts his role as lawyer, shareholder and Director of Rockit Apples among his proudest achievements. The recyclable tubes of miniature apples are now sold in over 40 different countries and are one of the largest branded apple imports into China.
"Rockit started from incredibly humble beginnings. I think we sold 1500 cases to Taiwan back in 2011. This year we'll do almost $40m in exports so it's quite phenomenal how well it's gone. It's been a huge team effort; it's by no means all down to me. But I've put a huge amount of my own time and effort into it so it's incredibly satisfying to see it take off."
Murray remains passionate about New Zealand exports and still goes over and above in his various roles as legal advisor, board member and mentor.
He believes our high quality horticultural and agricultural genetics, combined with excellent growing conditions and safe food practices will always give New Zealand an edge.
"We are at the bottom of the world and it's quite hard for us to compete with mass producers like America, Europe or China in terms of the cost of production. But it's the quality and provenance of New Zealand products that allows us to compete and command a premium. It's very exciting times."