Cooneys back St Johns Building project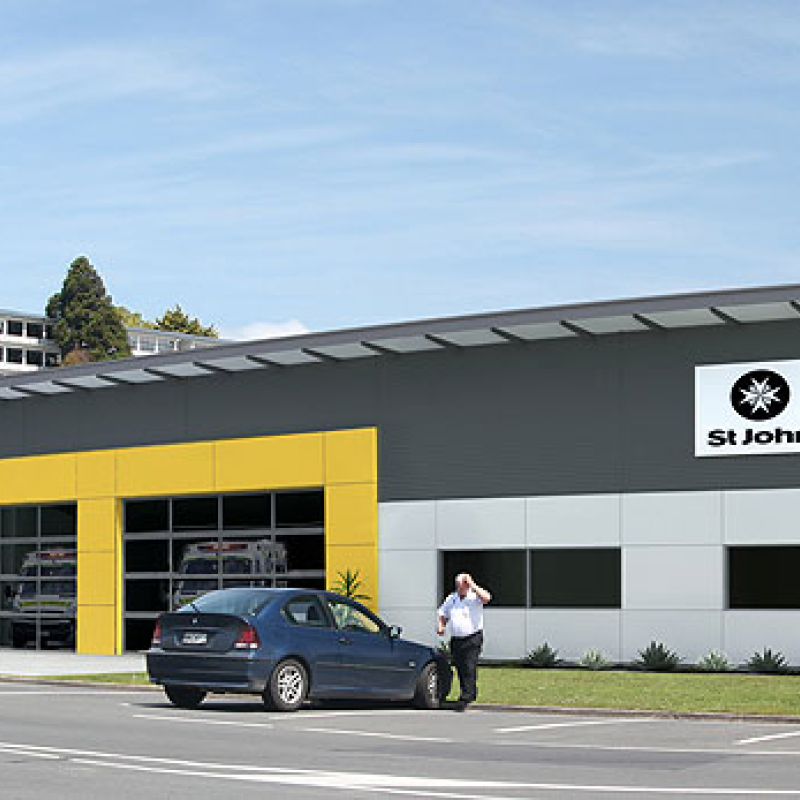 St John Tauranga will soon move into their brand new headquarters – a $4.5m project which Cooney Lees Morgan has been instrumental in helping to build.
Our firm, together with other tenants in the ANZ Business Centre on Cameron Rd, formed the St John Tauranga Building Project Charitable Trust in 2014 to help raise funds and progress building plans for a new headquarters on the corner of 17th Avenue and Clarke St.
It will replace St John's original 1980s depot which no longer meets earthquake safety requirements or the needs of a rapidly growing city.
After almost 12 months of construction, the finishing touches are now being added and the new station is due to open in March.
At 1700m², it's a third larger than St John's previous building and will bring their Western Bay team of 180 ambulance staff and volunteers and 18 support staff all back together under one roof.
St John Central East District Operations Manager, Jeremy Gooders, says the Tauranga station averages around 25,000 callouts per year. It was important to have a base close to the hospital which also allows easy deployment of vehicles around the city.
"Over the years we've expanded our services in the area both in responding to incidents and in the community with the St John in Schools programme, Friends of the Emergency Department, Caring Callers, the St John Youth programme, First Aid Training for individuals and businesses in the community and our non-urgent Health Shuttle transport service," he explains.
"We needed a site that could accommodate both operational ambulance staff and support staff for the above programmes, as well as allow greater space for staff training, clinical coaching and increased garaging for our emergency ambulances and support vehicles."
The ANZ Business Centre tenants decided to form a charitable trust and volunteer their time and professional services once they learned of the challenge St John was facing.
Matt Tustin represented Cooney Lees Morgan on the Trust alongside ANZ Bank, Aurecon, Bayleys, Staples Rodway, Rothbury, KPMG, Key Research and Elizabeth Café. Together they raised almost $2.5 million and undertook the long process of gaining consents and finalising the design work.
"St John's high profile and the way it touches everyone's lives made funders keen to support it," says Matt Tustin.
"It has been very gratifying to see businesses from the ANZ Centre work collectively with St John, and our very generous local funders, to bring the project to life."
The Trust approached TECT (Tauranga Energy Consumer Trust) who generously committed $2,034,000, while the NZ Community Trust gave $325,000 and Tauranga Police's CIB Charitable Trust Auction raised another $100,000. Other local organisations have funded the balance required.
On behalf of St John, Jeremy says he's incredibly grateful to Cooney Lees Morgan Tauranga and all other Trust members for what they have done.
"Their collective expertise has been invaluable. Without them we would have struggled to get this project across the line so we're very appreciative and really looking forward to moving in shortly."