A Landmark Project for Tauranga CBD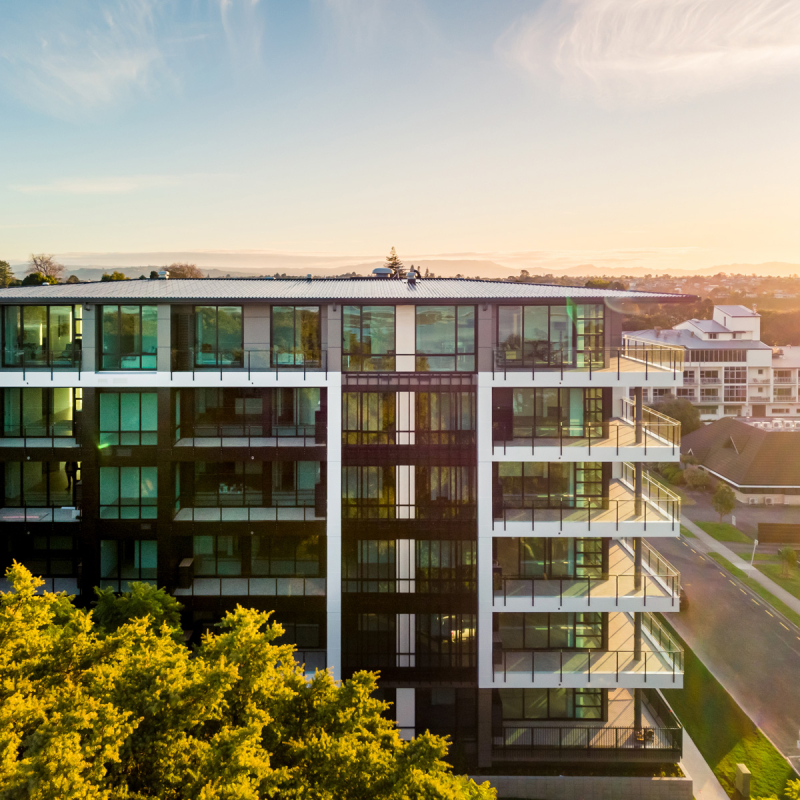 Tauranga's first major apartment build in recent years required Cooney Lees Morgan to be across all legal aspects of the project from start to finish – including the settlement of 24 apartments on a single day.
"It's been a big job," acknowledges CLM Partner Scott Goodwin. "We started working on Latitude Residences three or four years ago. It just shows how complex construction programmes can be these days."
The newly-completed $35m six-level luxury apartment building signals the beginning of a new era for Tauranga's CBD and waterfront.
Designed by Ignite Architects, Latitude Residences on Park St comprises 28 unit titled apartments with sweeping views across Tauranga Harbour to Mount Maunganui. The top floor boasts three grand penthouses and the building's high-end fit-out sets a new standard of luxury living in the region.
The ability to live and work in Tauranga's CBD clearly holds great appeal – 27 of the 28 apartments were sold off the plans prior to completion, the vast majority of which settled on the same date.
"That was certainly a busy day in the office," Goodwin says. "We had people working on different tasks and of course we had to deal with dozens of different solicitors. But in saying that, we were all done by 4:30pm. It's a great credit to our team and to one of our registered legal executives, Kerry McIntosh, in particular. She did a fantastic job."
In addition to taking care of the initial sale and purchase agreements, unit title subdivision and subsequent settlements, CLM's Tauranga lawyers assisted with the development financing arrangements.
"We also provided support throughout the resource consent process and dealt with various other legal issues as they arose over the course of the project."
Goodwin says the firm's experience in dealing with large-scale developments of this kind ensured everything went smoothly.
This is a top-end apartment building which will encourage more people to live, shop and dine in the CBD. It's great to see it come to fruition."
Tauranga Mayor Tenby Powell echoed that sentiment when he officially opened the building in early July, saying the scale and quality of the development is exactly what Tauranga deserves.
"We need to encourage and enable more such developments in downtown Tauranga to enable people to live in what will become one of New Zealand's most desirable suburbs."
Click here for Scott's contact details.